Kingsland School of Blockchain will work with the Tezos Foundation to train specialists in blockchain technology. This was announced at the Crypto Summit in New York where the NASDAQ hosted leading experts in the field of distributed ledger technology.
Next year, Kingsland and Tezos will hold a series of events including hackathons and courses that will be held in financial centers around the world. The scholarships offered by the Tezos Foundation will allow more students to access the world's first accredited blockchain curriculum.
Recall, the Tezos Foundation, which is responsible for distributing funds raised by the crowdsale project last year, announced the issuance of a new series of grants. As explained by the representatives of the project, their goal is the long-term development of the Tezos protocol and ecosystem. The company finances projects submitted by scientists, researchers, developers, entrepreneurs, and just enthusiasts.
Tezos Mainnet Up And Running
Jason King, the co-founder of Kingsland School of Blockchain, believes that the distributed register technology is already rapidly spreading around the world and will eventually lead to the transformation of various fields. But for now, the blockchain sphere is facing a number of problems. Therefore, it is required to engage in its further development.
John Souza, CEO and founder of Kingsland School of Blockchain, also made a statement. He noted the need to develop the blockchain ecosystem.
"The Tezos Foundation is truly committed to growing the ecosystem to support a more equitable and exciting global future. The Kingsland-Tezos partnership highlights the importance of industry-aligned training curricula and addresses the critical shortage of developers in the space. Working together we will ensure a future for blockchain and create thousands of career opportunities for developers around the world" he said.
U.S. Students Want to Study Blockchain
The partners also explained that Kingsland will support recruiting students into a special Tezos curriculum and place them in workplaces that support the overall growth of the Tezos protocol and the ecosystem.
It is worth noting that this news has so far been perceived pretty well in the Tezos community on Reddit. Users expressed confidence in the new partner.
One user (@tztztztztzt) wrote:
"this is extremely bad. Kingsland is an online "school" led by a known scammer and is for-profit. This "school" will not provide quality education. I was expecting partnerships with universities and established trainers, not a bottom feeder scam school. Not good!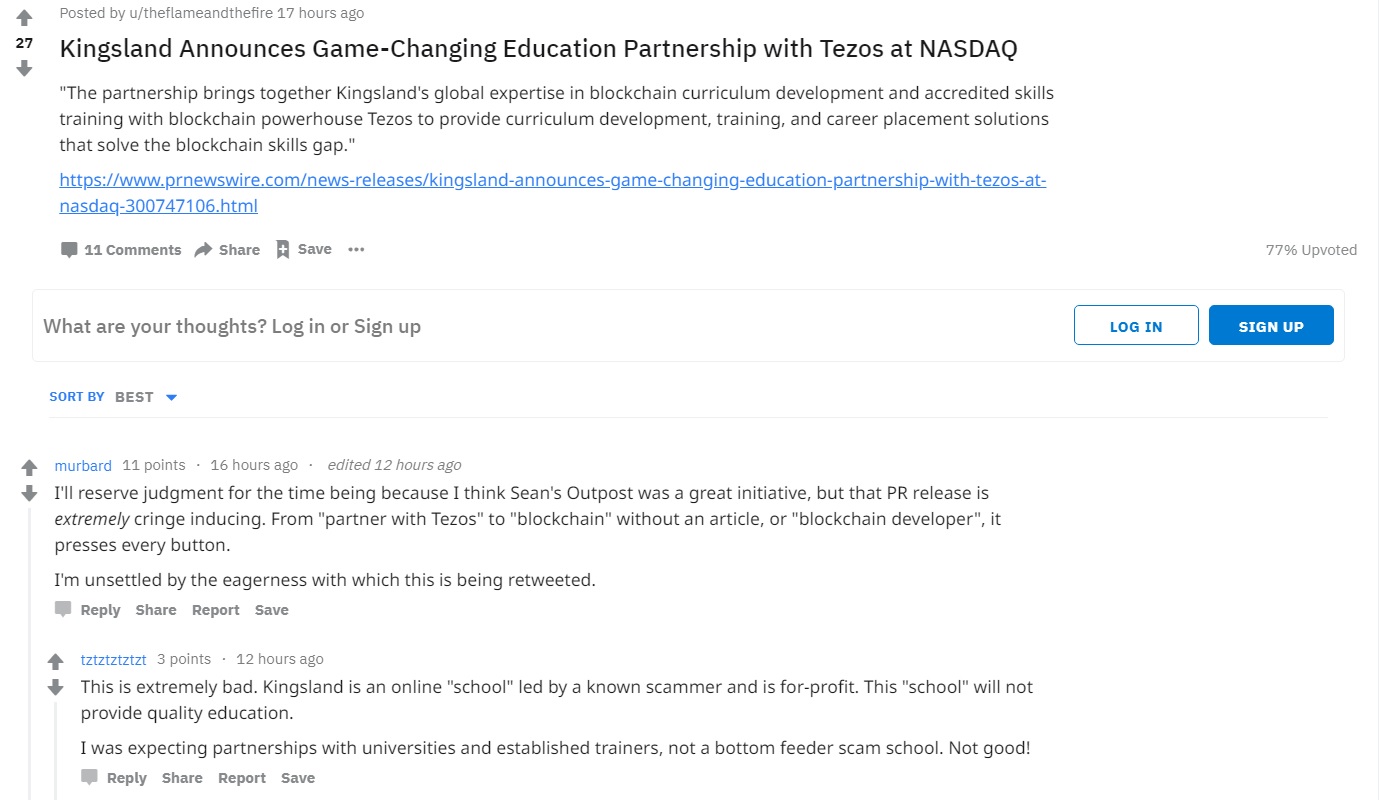 However, interest in blockchain courses is high in general. According to a study conducted by the crypto exchange Coinbase, more than 40% of the top 50 universities in the world have at least one course related to cryptocurrencies or distributed ledger technology. Dawn Song, a Professor in the Department of Electrical Engineering and Computer Science at UCBerkeley, said her course was so popular that more than 200 students had to be denied because it was designedf or a maximum of 70 people.